Our forward-thinking goes way back.
Join us and make sure we never stop.
Back in 1990, there were not many people who saw the potential in wind as a source of electricity. Someone who did, and acted, was the founder of Eolus. Since then, the company has grown in line with the worlds demand for renewable energy to ensure a sustainable future. We continue as wind power pioneers, building a company with knowledge and commitment.
Our forward-thinking is with us every day and everywhere. Nowadays, our focus on wind energy has been joined by innovations and investments in solar power and energy storage. Eolus builds big, aims high, and thinks long-term, but our organization is agile with short decision routes and close co-worker relationships. We want to make a difference – change and improve – now and in the future, and therefore we need to grow.
Sound interesting? Join us in thinking big, far ahead, and long-term!
Working for us
When Eolus was founded in 1990, we were the first commercial wind farm developer in Sweden. Today, we are a leading renewable energy developer on our home turf and are active in several other markets. We are positive that the main reason for our success is great employees; our engineers, technicians, accountants, and all of the important people who place Eolus at the very forefront. At Eolus, we value knowledge, commitment, creativity, and people who take initiative highly – even more than a perfect wind site. And that says a lot.
My job within origination is challenging and varies – it is energetic and educative and with so many lovely colleagues! Eolus really is a fantastic company to work for, with high competence, experience, and development of long-term relationships with our clients.

Katarina Tideman

Originator

To work as a Technical Asset Manager at Eolus involves varying tasks, and I get to handle everything from monitoring operating turbines to performing controls on-site, as well as meeting clients and optimizing the production.

Daniel Claesson

Technical Asset Manager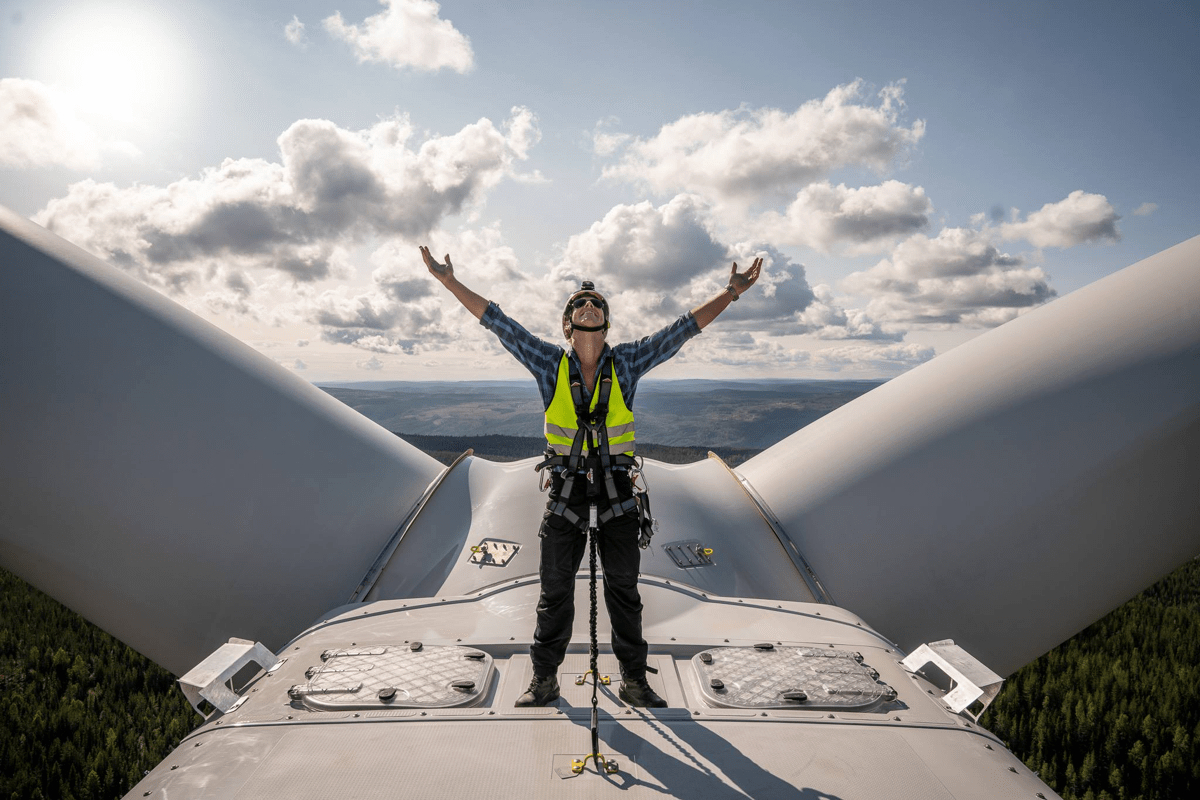 VISION. Eolus vision is to be the most profitable renewable energy developer and an attractive business partner in the transition to a sustainable society.
BUSINESS IDEA. Eolus aims to create value at all levels within the process of project development, establishment, and operations of facilities for renewable energy and energy storage. Eolus offers both local and international investors attractive and competitive investment opportunities.
DECADES OF EXPERIENCE. With 30 years in the industry, Eolus has gained solid competence and a large network of contacts at all levels – from early development stages to established and operational facilities.
About Eolus Vind
Eolus Vind develops, establishes and manages renewable energy projects, and is one of Swedens leading developers of wind power. In the autumn of 2020, the company had established 1,370 MW, of which 1,340 are in Sweden, which corresponds to 14 percent of the wind power that has been built here. In addition, Eolus has operations in Norway, Finland, the US, Poland, Estonia, and Latvia.